I recently had the privilege of offering a short live session on Collaboration during Gong's Customer Training Day. 
I wanted to put all of the key lessons here as well so that you could enjoy them and add to what I've started for all others who could benefit from this.
The workflows span Account Collaboration, Call Collaboration & Bringing Content Out of Gong and for each one I'll talk you through the how and then the why so that you can integrate it into your existing workflows. 
Account:
Just like you can comment on calls (detailed below) you also have the ability to leave a comment on the account page. As a reminder you can access the account page via the Deals tab or by searching for the account in search bar on the top right of Gong. 

Once there, whenever you hover over a piece of activity on the preview timeline on the bottom left, you'll see the option to comment.

Clicking this button gives you the opportunity to leave a comment over toward the right edge of the page and just like on a call, you have the ability to @ mention anyone in your organization.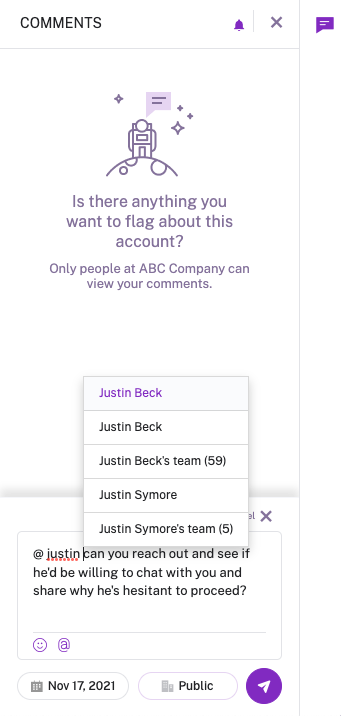 Use Cases: The most prominent use case is a rep tagging a manager in an inbound email that contains some sort of risk/obstacle. This allows the manager to support the rep in strategizing and responding even if the manager is fairly unfamiliar with the deal because the account page will give the manager the ability to quickly get up to speed as they see fit and it avoids the rep having to forward the email to the manager and put together a whole narrative to provide context. Other uses include looping in someone else on the team such as a sales engineer, or even just making a note to yourself and others for the future. 
Call:
Tagging:
Using an @ mention in the comment area, you can bring others into certain moments in conversations. Remember, Gong allows customers unlimited listen only collaborator licenses (not a recorded user) so that anyone in your organization who could benefit from access to the voice of the customer or could help you better serve your customers through their collaboration, can be easily brought into these moments. 
Use Cases: As a rep, this gives you the ability to take ownership over your growth and development by bringing your manager (or peers) into the moments that you feel like you could use the most support in. Coaching is a two-way street and taking this initiative is crucial to your ongoing success. This also fosters fantastic cross-functional collaboration as a customer moves through your process and key details need to be shared between certain people to make sure that everyone is set up for success.
SDRs can share pains uncovered with AEs to support better discovery.
AEs can share technical challenges and priorities with a Sales Engineer to allow for a more precise demo.
AEs can tag the CSM inheriting a soon-to-close account in a few key moments to make sure the post sales team hears what is most important to the customer in the customer's own words.
CSMs, Implementation Managers, Onboarding Specialists, Trainers and the many other post-sales professionals can pass around key details from their often simultaneous workflows to create instant value and lasting success for customers. 
Snippeting:
By flipping into the transcript view and highlighting the part of the call that you wish to share, you can easily bring a moment of a conversation into a forum where discussion commonly occurs.
Once you copy the sharable link, you can paste it in a tool like Slack or Teams in order to foster discussion for widespread benefit.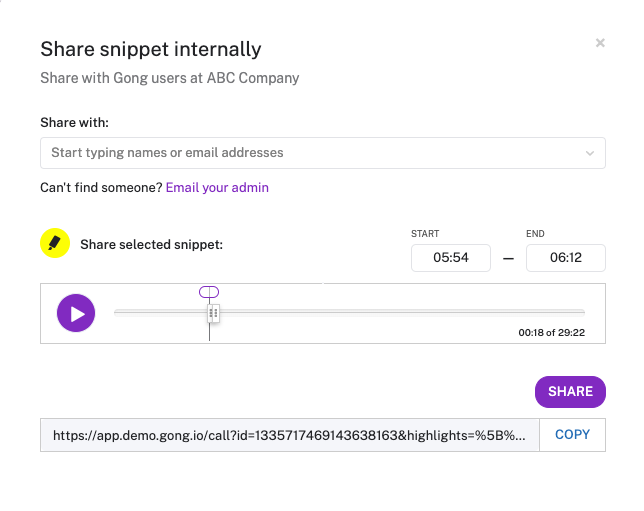 Use Cases: Common use cases include reps crowdsourcing how others would have handled an objection they faced, sharing an example of new messaging being used or even disseminating competitive intelligence that was shared by a prospect evaluating multiple solutions. This is also a great way to share those win moments and positive sentiment out for public recognition and celebration. And yes, this is also a great way to share those blooper moments out to lighten the mood, whether its a frantic feline running around the background or an oblivious family member drawing attention to themselves as they pass through the frame :)
Out of Gong:
Share a call:
A common practice is sharing a call recording with a customer after a meeting, it can even be a great "give" to mention if there's hesitation about a call being recorded initially.

A pro tip that is hidden in plain sight is the ability to easily trim off the beginning bit of a recording when its shared in case you were talking strategy with a colleague before the prospect joined or just would rather not share the piece where everyone talked about their weekend.

By moving the cursor to where you want the call share to start and then using the share call button in the top right, you'll see the left bookend of the call share default to where the cursor is when you flip this toggle.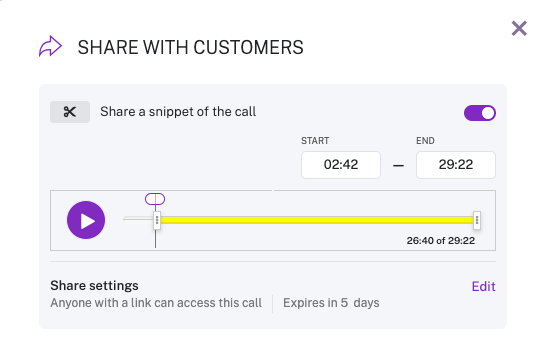 Then you can decide how long they get access to it (remember sometimes less is more, drive some urgency) and whether you want to be able to identify each viewer or simply have a count. When you go to get the sharable link, that link will capture all of those decisions you've just made about the sharing parameters.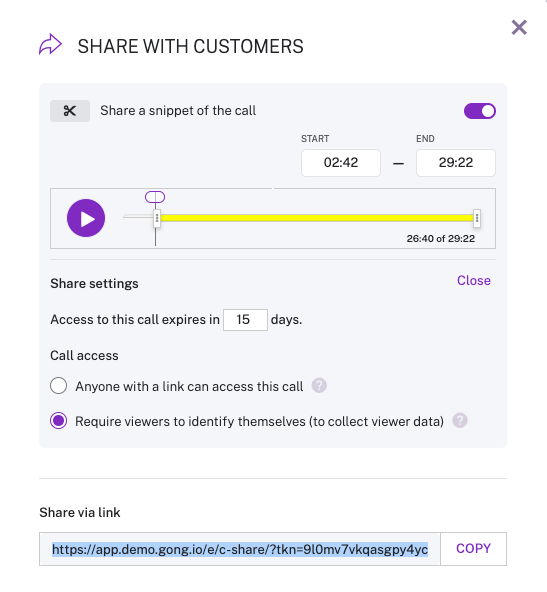 Use Case: The use case here is sharing a call with attendees of a call or folks who planned to attend but couldn't make it. This allows them to have a record of what was said and discussed to refer back to. 
Embed Snippets in an email:
In addition to being able to share a whole call externally, you can also share snippets externally and embed them in your emails. 

Combing the workflow of sharing a call externally and a snippet internally, we can grab a customer accessible snippet and embed it in our emails.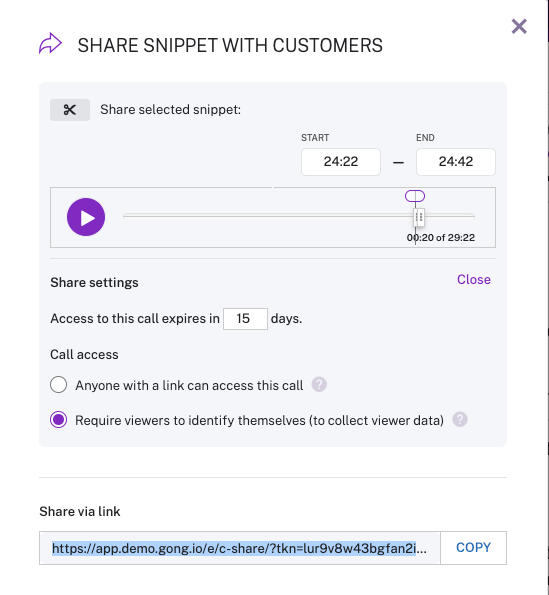 Use Case: This is an excellent way to enhance a recap email you might send to an executive stakeholder that you're hoping to engage in your process. It's unfortunately common to be held at arms length by a decision maker whose participation is vital to your deal's success and many reps will recap conversations with that DMs subordinates as a means of drawing them in. This tactic can be enhanced with carefully curated snippets of the conversation that are consummate to this person's likely attention span and most importantly, leave them wanting more and feeling like they are missing out on important conversations. 
Share out text snippet from transcript:
Sometimes you just can't resist a good old copy and paste. I don't blame you. If you copy text from the transcript and paste it in a text format, you'll notice that you also get a link to that snippet of the conversation, making it very easy to jump back into that moment in the larger conversation.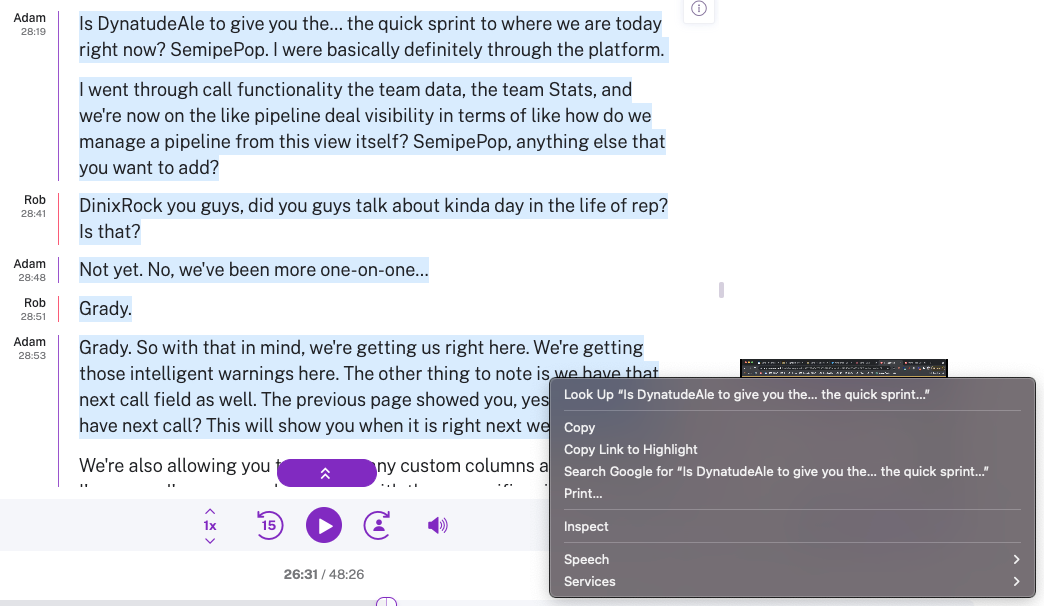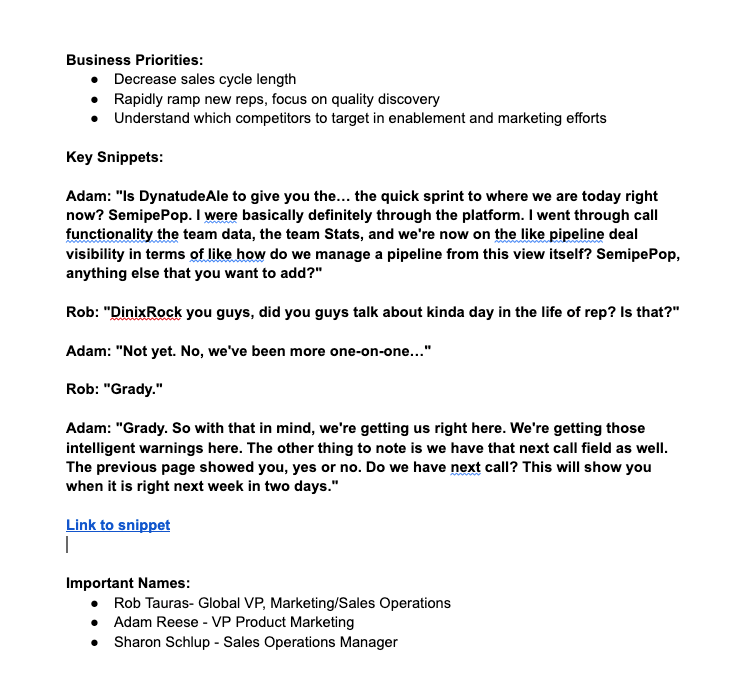 Use Case: Many organizations will use content management systems and collaboration hubs to allow internal teams to stay aligned on shared initiatives such as deals and projects. This functionality allows you to bring text snippets into these forums with the added bonus of a link back to the call to explore that conversation further as needed.
---
What use cases did I miss? Do you have a favorite way of collaborating that wasn't discussed? Let me know your thoughts in the comments below. And if you found this article useful, make sure you share it with a colleague or two!